Founded in 1860

St. Mark's Episcopal Church in South Milwaukee, Wisconsin, was founded in 1860. The church was initially consecrated by Bishop Nicholson. For many years, services were held in the old wooden church at the front of the lot at 1314 Rawson Ave. In 1956, plans were made to replace the cold, leaky building with something that would make a statement to the community. Utilizing the land at the back of the lot, a new church was set in place accented with limestone brick and a high vaulted ceiling over the sanctuary. The new church, built in the style of Frank Lloyd Wright, was finished in 1958 and consecrated by Bishop Gaskell. The previous location of the old church is now the front lawn of the church. In 2009, the church was renovated. On the outside, a new roof was installed and new eaves and gutters were added to the main entrance. On the inside, the tile floor in the narthex and sanctuary was replaced with a modern yet austere-looking golden brown stained epoxy over the original concrete. New carpeting was installed in the Great Hall.

Today, St. Mark's has a vibrant community of families from South Milwaukee, Cudahy, Oak Creek, Milwaukee, and Racine. We are a multi-cultural church. We offer Sunday school and nursery services for children and bible study for adults. In addition, we host several community outreach events and enjoy many social activities throughout the year.

Our doors are open and YOU are always welcome at St. Mark's. Come Grow With Us!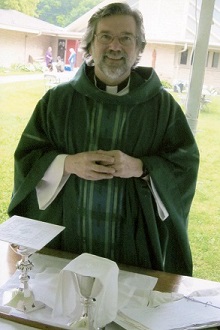 Fr. Steve Kuhl

Our Priest, Reverend Dr. Steven C. Kuhl
Father Steve was called to serve as Rector of St. Mark's Episcopal Church beginning December 22, 2013 and provides a full range of pastoral responsibilities for the life and ministry of the parish. He is an ordained pastor (since 1984)in the Evangelical Lutheran Church in America (ELCA) and serves as priest at St. Mark's because of the Full-Communion Agreement (Called to Common Mission) that has existed between the ELCA and the Episcopal Church, USA since 2000.
After receiving a Bachelors and a Masters Degree in Aerospace Engineering and Mechanics from the University of Minnesota, Steve worked for two years at McDonnell Douglas Corporation in St. Louis. Discerning a call to ordained ministry, he pursued and received a M.Div. Degree from Christ Seminar-Seminex (St. Louis) in 1982 and subsequently received a Ph.D. in Systematic Theology from the Lutheran School of Theology at Chicago in 1992.
Throughout the course of his ministry Fr. Steve has served in both parish ministry and theological academic settings. His previous parish experience includes service at Pilgrim Lutheran Church in Chicago, IL, Mount Olive Lutheran Church in Mukwonago, WI, St. Thomas of Canterbury Episcopal Church in Greendale, WI (as an interim) and Resurrection Episcopal in Mukwonago, WI (as a long term supply priest). In Higher Education Dr. Kuhl has taught at the rank of Associate Professor at St. Francis de Sales Seminary in Milwaukee (2002-2006) and Cardinal Stritch University in Milwaukee (2007-2013).
Fr. Steve's position at St. Mark's is quarter-time. Outside of St. Mark's, he works as an adjunct professor for Lakeland College, Cardinal Stritch University and Sacred Heart School of Theology in Hales Corners, WI. He is also the (quarter-time) Executive Director for The Crossings Community, Inc. (
www.crossings.org
) whose distinctive mission is described by their motto "Crossing Life with the Promise of Christ."
Steve resides in East Troy, WI with his wife Kelly, who is a church organist and choir director, voice and piano teacher, day school music teacher and member of the Milwaukee Symphony Orchestra Chorus. They have two grown children who are almost out of the house and look forward to those rare moments when they can sit back and simply enjoy each other.